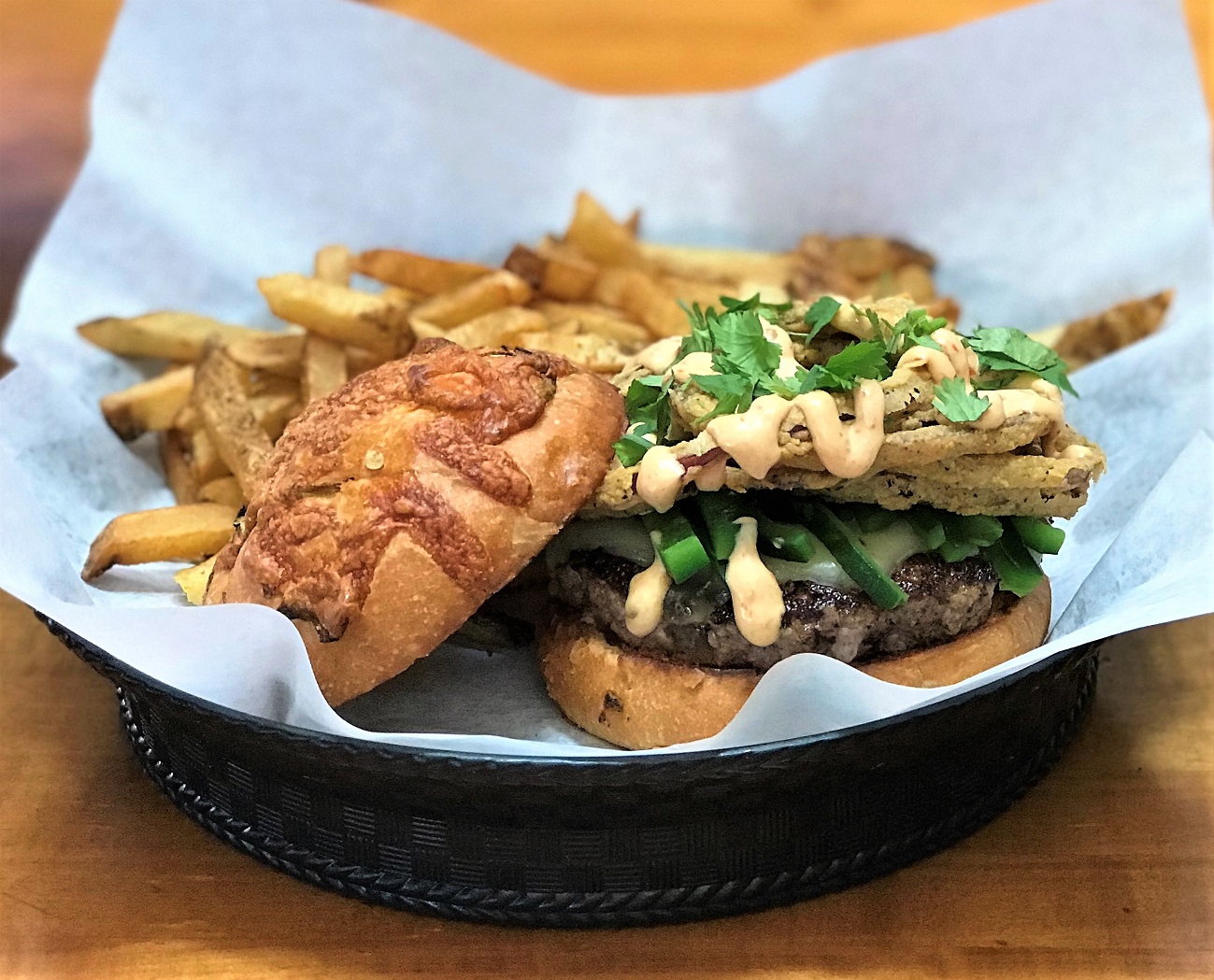 BURGER OF THE MONTH
Roasted poblano peppers mixed with chipotle mayo, we've got the flavor to help you spice things up! Turn up the heat with our May burger of the month The Poblano Burger!
Our fresh ground patty stacked with roasted poblano peppers, pepper jack cheese, and crispy onion strings, topped with chipotle mayo and cilantro, served on a Jalapeno Cheddar bun!
Get it before it's gone on June 1st!
Begin working towards your Flips VIP status from 11am – 2pm daily when you dine-in at Flips! Buy 7 lunches and we'll treat you to the 8th!
*Flips VIP lunch card not valid with other offers
Fort Worth
Blood and Honey
Revolver Brewing – Grandbury, Texas – ABV: 7.0% IBU: 20
An unfiltered deep golden ale made with malted two row barely and wheat. The brew is finished with blood orange zest, local Fall Creek Farms honey and other spices that bring special flavors to this unique beer.
Oberon
Bell's Brewery-Comstock, Michigan – ABV: 5.8% IBU: 10
A wheat ale fermented with Bell's signature house ale yeast, mixing a spicy hop character with mildly fruity aromas. The addition of wheat malt lends a smooth mouthfeel, making it a classic summer beer. Made with only 4 ingredients, and without the use of any spices or fruit, Oberon is the color and scent of sunny afternoon.
Nitro Irish Stout
Breckenridge Brewery-Breckenridge, Colorado – ABV: 4.8% IBU: 38
Brewed with roasted Irish barley for a rich malty flavor, the memorable, sensory nature of Nitro Irish Stout nods to the welcoming adventure that Colorado is all about.
Shiner Sea-salt and Lime
Spoetzl Brewing Company-Shiner, Texas-ABV:4.0% IBU: NA
A slightly dry, clean & crisp summer lager with a hint of lime and salt
Pear Cider
Wyder's Cider Co.- Middlebury, Vermont – ABV: 4%
This light, crisp cider presents a tangy aroma while offering a distinct pear taste and ends with a lively mouthfeel that tickles the tongue.