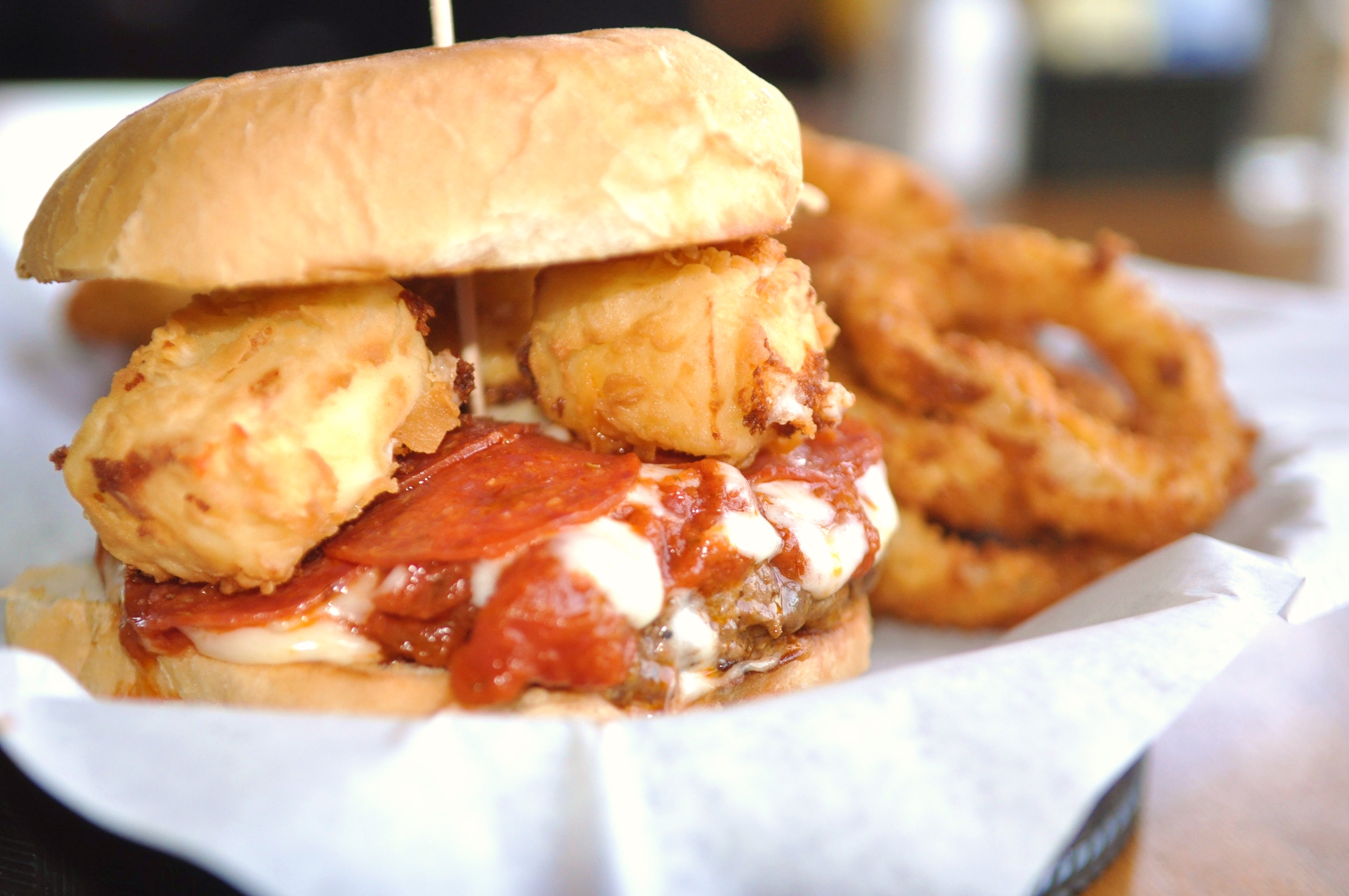 BURGER OF THE MONTH
Special throughout the month of August
The Big Bambino
Our freshly ground, beef patty is covered in marinara, mozzarella cheese, pepperoni, and our homemade fried cheese bites. Stop by and taste it all month long!
Fort Worth
Rahr Blonde – Rahr and Sons Brewing, Fort Worth, TX-ABV:5.0% IBU: 28
Golden medium-bodied and brewed as a traditional Munich Helles style pale lager. It features a rounded maltiness without being too heavy. And like every proud Texan, it has a good head, is pleasant but never overly sweet..
Blood and Honey – Revolver Brewing – Grandbury, Texas – ABV: 7.0% IBU: 20
An unfiltered deep golden ale made with malted two row barely and wheat. The brew is finished with blood orange zest, local Fall Creek Farms honey and other spices that bring special flavors to this unique beer.
Austin Amber – Independence Brewing Co, Austin, TX-ABV:4.9% IBU: 32
Austin Amber is a true original with its blend of toasted malt flavor balanced by American hops. It's smooth and laid-back. No need to pack your bags to visit Austin, just sip back a cold Austin Amber and enjoy
Grapevine
Two Hearted Ale – Bell's Brewery – Kalamazoo, MI – ABV: 7% / IBU: N/Listed
Brewed with 100% Centennial hops from the Pacific Northwest and named after the Two Hearted River in Michigan's Upper Peninsula, this IPA is bursting with hop aromas ranging from pine to grapefruit from massive hop additions in both the kettle and the fermenter. Perfectly balanced with a malt backbone and combined with the signature fruity aromas of Bell's house yeast, this beer is remarkably drinkable.

Tropical Torpedo – Sierra Nevada Brewing – Chico, CA – ABV: 6.7% / IBU: 55
Inspired by the island life, we created an IPA completely disconnected from the mainland. We used our one-of-a-kind Hop Torpedo to deliver an intense rush of hop flavor and the lush aromas of mango, papaya, and passionfruit with every sip. Enjoy our tropical twist on the American IPA.
Mosaic IPA – Community Beer Co. – Dallas, TX – ABV: 8.6% / IBU: 85
We're full on board the hopwagon with this big American-style IPA. However, it is not designed to blow your head off with overpowering hop bitterness. Instead, Mosaic IPA is an extremely well-balanced brew that showcases its unique hop aroma and flavor. This beer gets its name from a new hop variety named "Mosaic," which is predominantly where the immense, raw hop aroma and flavor is derived.
Raspberry Golden Rey – Noble Rey Brewing – Dallas, TX – ABV: 5.3 / IBU: Zero
Our award winning, unfiltered American wheat beer that is deep golden in color with a nice haze. This beer is brewed with local honey from Rodgers TX, chamomile flowers and rose hips. The Mount Hood hops give this beer a great finish that pairs well with the honey and spices.