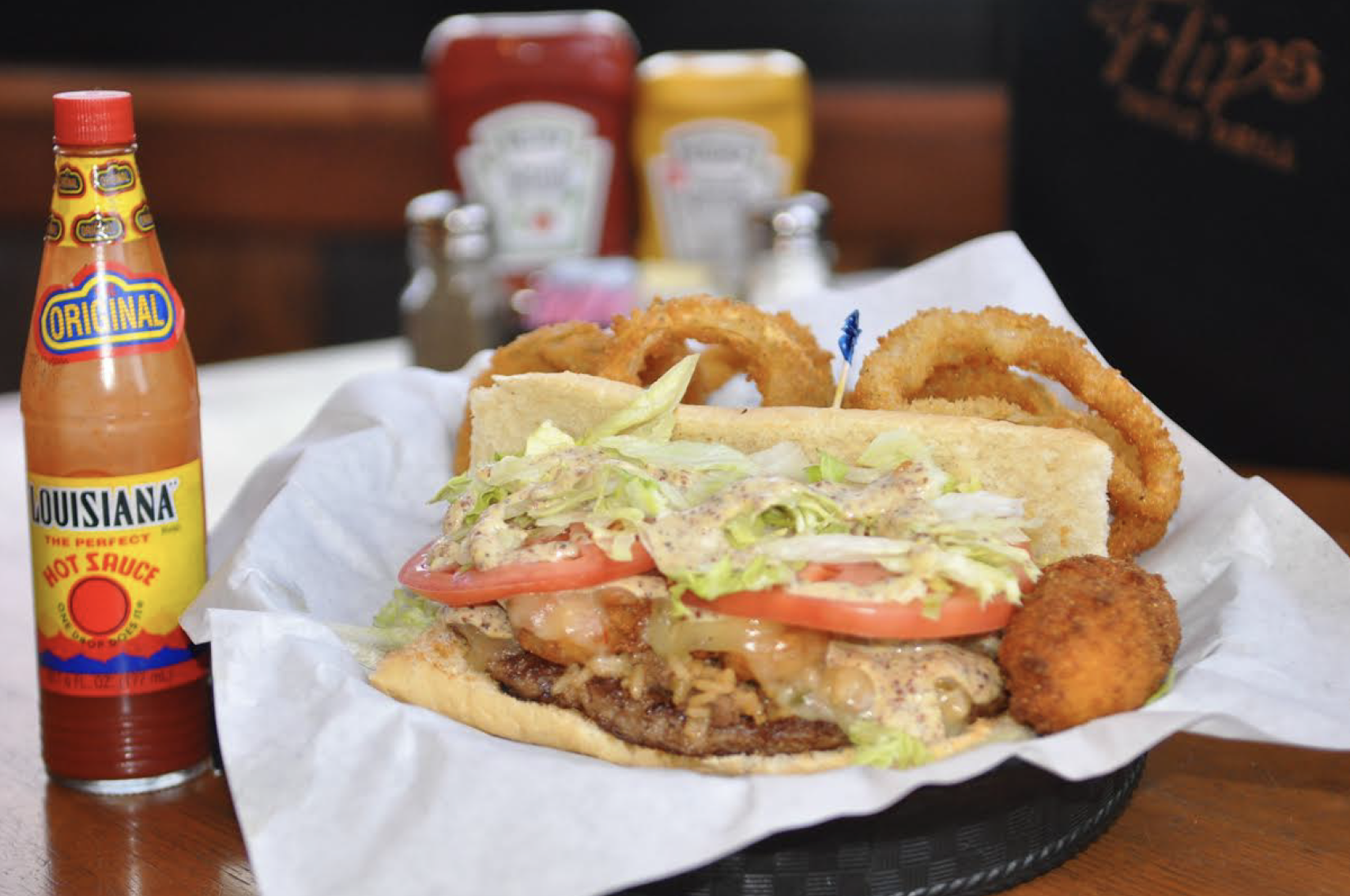 BURGER OF THE MONTH
Special throughout the month of June
The Big Easy
Our newest burger of the month is a hot Cajun kicker! Experience the soulful flavors of Louisiana paired with your favorite sides with our burger of the month: THE BIG EASY
The Big Easy is made with our fresh ground chuck mixed with ground andouille sausage topped with dirty rice, fried shrimp, pepperjack cheese, lettuce and tomato and covered with a housemade creole mustard sauce and two hush puppies.
Get it before it's gone July 1st!
Fort Worth
Nitro Cream Ale – Deschutes Brewery – Bend, Oregon – ABV: 4.7% IBU:30
An Ale version of an American Lager, this Cream Ale is light, with a good hop balance and clean finish.  Perfect for sunny days and being around good friends.
Blood and Honey – Revolver Brewing – Grandbury, Texas – ABV: 7.0% IBU: 20
An unfiltered deep golden ale made with malted two row barely and wheat. The brew is finished with blood orange zest, local Fall Creek Farms honey and other spices that bring special flavors to this unique beer.
Billy Jenkins – Wild Acre Brewery- Fort Worth, Texas – ABV:5.2% IBU: 15
Billy Jenkins Session Bock beer is an exceptionally quaffable beer, lower in alcohol, and less malt-forward than a traditional German bock. The deep amber color results from a blend of domestic and German malts. Clean and well balanced, Billy Jenkins gives off malt aroma, plus biscuit and toffee flavor profiles.
Grapevine
Two Hearted Ale – Bell's Brewery – Kalamazoo, MI – ABV: 7% / IBU: N/Listed
Brewed with 100% Centennial hops from the Pacific Northwest and named after the Two Hearted River in Michigan's Upper Peninsula, this IPA is bursting with hop aromas ranging from pine to grapefruit from massive hop additions in both the kettle and the fermenter. Perfectly balanced with a malt backbone and combined with the signature fruity aromas of Bell's house yeast, this beer is remarkably drinkable.

Tropical Torpedo – Sierra Nevada Brewing – Chico, CA – ABV: 6.7% / IBU: 55
Inspired by the island life, we created an IPA completely disconnected from the mainland. We used our one-of-a-kind Hop Torpedo to deliver an intense rush of hop flavor and the lush aromas of mango, papaya, and passionfruit with every sip. Enjoy our tropical twist on the American IPA.
Off With Your Red – Rabbit Hole Brewing – Justin, TX – ABV: 7.7% / IBU: 85
Off With Your Red is an aggressively hopped red IPA befitting its status as the first release of the Rabbit Hole Brewing "Season of Fear". The substantial malt backbone establishes the dark ruby/garnet color and supports the significant flavor and aroma additions of American Pacific Northwest hops. The hop nose is bright, resinous, and lingers to the end. Off With Your Red is not to be trifled with; if you do, you may just lose your head.
Neato Bandito – Deep Ellum Brewery – Dallas, TX – ABV: 6% / IBU: 18
Neato is Deep Ellum's interpretation of a Mexican Style lager. But, Neato's been working out and is stronger than the others! Light in color, but big in flavor, Neato Bandito wants to help you enjoy all of your summertime activities!