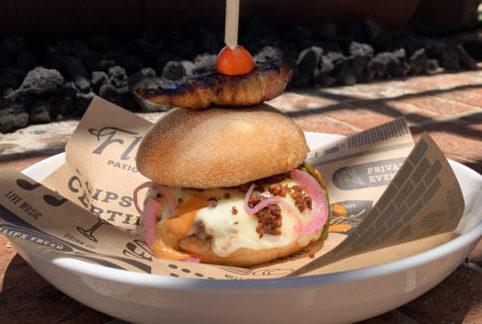 BURGER OF THE MONTH
Fundido Bandito 
Our juicy 50/50 patty covered in melted pepper jack and mozzarella cheese, topped with chorizo, roasted poblanos, pickled onions, and chipotle aioli, on a brioche bun and garnished with a bacon-wrapped jalapeno.
Get it before it's gone on August 1st! 
Begin working towards your Flips VIP status from 11am – 2pm daily when you dine-in at Flips! Buy 7 lunches and we'll treat you to the 8th!
*Flips VIP lunch card not valid with other offers
Fort Worth
Deep Ellum IPA
Deep Ellum Brewing Company- Dallas, Texas- ABV:7% IBU:70
For an IPA to bear our hometown name, it better be potent. So, we loaded it with our favorite American hops for a bitter punch. And with some over-the-top tropical fruit, citrus, pine and floral aromas and flavors, you've got one big Texas IPA, deserving of the Deep Ellum name.
Dallas Blonde
Deep Ellum Brewing Company-Dallas, Texas-ABV:5.2% IBU: 23
This Shimmering golden ale combines citrusy and floral American hops with Pale, Vienna and wheat malts.
Blood and Honey
Revolver Brewing – Granbury, Texas – ABV: 7.0% IBU: 20
An unfiltered deep golden ale made with malted two row barley and wheat.  The brew is finished with blood orange zest, local Fall Creek Farms honey and other spices that bring special flavors to this unique beer.
Fresh Squeezed IPA
Deschutes Brewery – Portland, Oregon – ABV: 6.4% IBU: 60
This mouthwateringly delicious IPA gets its flavor from a heavy helping of citra and mosaic hops. Don't worry, no fruit was harmed in the making of this beer.
Guinness Draught
St. James Gate Brewery-Dublin, Ireland-ABV:4.2% IBU: 21
Rich and creamy.  A perfect balance of bitter and sweet, with malt and roasted characters. Distinctively dark with a rich creamy head.  A bold combination of flavors with a lasting impression
Peanut Butter Temptress
Lakewood Brewing Comany-Garland, TX-ABV:9.1% IBU:56
Lakewood took their rich and dreamy milk stout and made it extra with chocolate, peanuts, and a touch of sea salt. The result is a creamy, peanut buttery treat that's fit for the candy aisle. (EXCLUDED FROM SPECIALS)
Sam Adams Octoberfest
 Boston Beer Company-Boston, Massachusetts-ABV:5.3% IBU:16
Sam Adams version of this classic style blends rich malts for a hearty, smooth flavor with notes of caramel creating a brew that's perfect for the season, or whatever you're celebrating.
Pear Cider
Wyder's Cider Co. – Middlebury, Vermont-ABV:4%
This light, crisp cider presents a tangy aroma while offering a distinct pear taste and ends with a lively mouth feel that tickles the tongue.