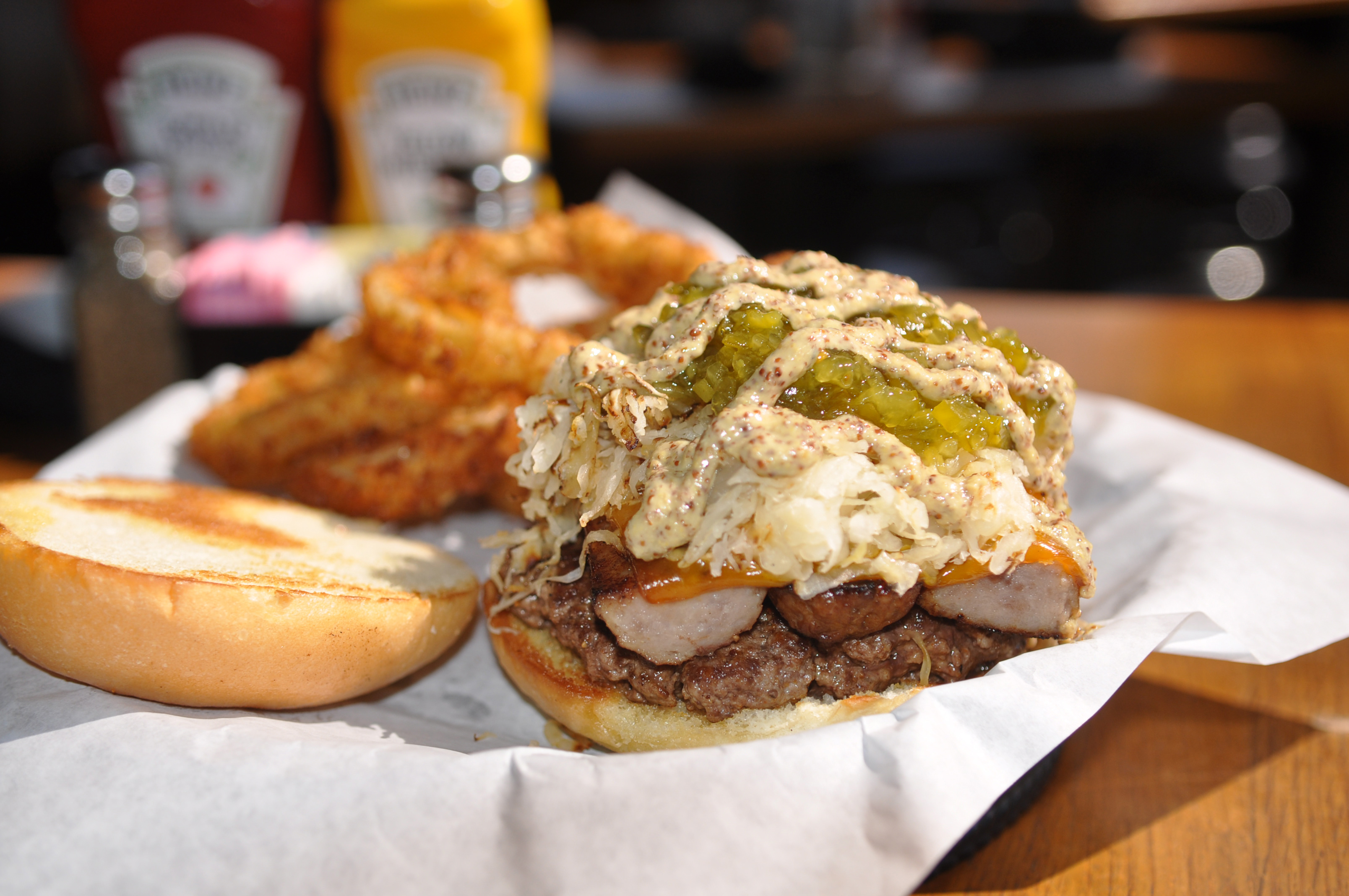 BURGER OF THE MONTH
Special throughout the month of October
The Brat Burger
Nothing goes better with an ice cold beer than authentic German bratwurst! Grab a seasonal brew and enjoy your favorite German flavors with THE BRAT BURGER.The Brat Burger features beer-braised bratwurst, authentic German-style sauerkraut, and freshly ground beef topped with smoked cheddar cheese, relish, and spicy mustard!
Get it before it's gone on November 1st!
Fort Worth
Space Dust IPA – Elysian Brewing – Seattle, Washington – ABV: 8.2% IBU: 73 The hopping is pure starglow energy, with Chinook to bitter and late and dry additions of Citra and Amarillo.
Blood and Honey – Revolver Brewing – Grandbury, Texas – ABV: 7.0% IBU: 20 An unfiltered deep golden ale made with malted two row barely and wheat. The brew is finished with blood orange zest, local Fall Creek Farms honey and other spices that bring special flavors to this unique beer.
Sam Adams Oktoberfest – Boston Beer Company-Massachusetts-ABV:5.3% Masterfully blending together four roasts of barley to create a harmony of sweet flavors including caramel and toffee. The beer is kept from being overly sweet by the elegant bitterness imparted by the German Noble Hops.
Grapevine
Pumpkinator – St. Arnold Brewery – Ft. Worth, TX – ABV: 11% / IBU: 34
Pumpkinator is a big, black, full of spice, full of flavor beer. Originally released in 2009 as Divine Reserve No. 9, it is an imperial pumpkin stout and our answer to how a pumpkin beer ought to taste. It is brewed with a combination of pale two row, caramel and black malts, Cascade and Liberty hops for a background hop flavor, pumpkin for a rich mouthfeel, molasses, brown sugar, spices and dry-spiced to make it feel like you just walked into your mom's kitchen while she was cooking 37 pumpkin pies. It is the most expensive beer we have brewed.

St. Arnolds Oktoberfest – St. Arnold Brewery – Houston, TX – ABV: 6.6% / IBU: 14
A full bodied, malty, slightly sweet beer celebrating the Autumn harvest. This rich beer has a round malt flavor and an above average alcohol content perfect for a cool fall evening.
Goose Island Oktoberfest – Goose Island Brewing Co. – Chicago, IL – ABV: 5.3% / IBU: 22
Goose Fest Bier is brimming with notes of toasted malt and freshly baked rye bread. This light-bodied German lager is clean and crisp with a fine noble hop character and mild earthy bitterness that is the hallmark of Hallertau hops. Raise a few steins of Goose Fest Bier this fall and celebrate this time-honored tradition, Prost!
Raspberry Golden Rey – Noble Rey Brewing – Dallas, TX – ABV: 5.3 / IBU: Zero
Our award winning, unfiltered American wheat beer that is deep golden in color with a nice haze. This beer is brewed with local honey from Rodgers TX, chamomile flowers and rose hips. The Mount Hood hops give this beer a great finish that pairs well with the honey and spices.